We're happy to introduce another unique feature to Myfxbook – trade tagging! Those who use EA's should be already familiar with the magic analysis capability, which lets you analyze your trades based on the magic number associated to each trade. Unfortunately, manual traders and those who don't use magic numbers didn't had such an option, until now.
You can now tag any trade, order, or a history record with an unlimited number of tags: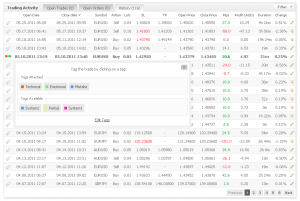 Then analyze your account by tags (custom analysis button):

And receive a clear picture: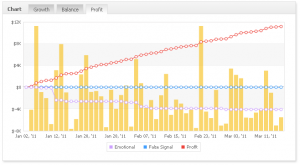 This is a very useful tool, which takes the analysis capability a step further; you can tag trades based on your emotion, your comfort level, system, or any other criteria which comes to mind – the options are unlimited!
If you have any suggestions or comments on this new feature (We're sure you do! :)), then please let us know by sending a message.
Another change is the strategies section; as mentioned a month ago regarding the strategies change here , we're making another important change – the yields shown in the strategies section are now of the forward test. Connecting a forward test is a must to make your strategy public.
A quick note regarding the upcoming contest – there are over 1,200 participants 🙂 ! Only 4 days left for registration, so if you haven't registered yet, please do before registration closes https://www.myfxbook.com/contests/trading-championship-june-2011/4/rules
Happy Trading,
The Myfxbook team.