Getting through all of your trades and finding those specific trades you wish to analyze is sometimes a difficult task. To make it easier for you, we've redesigned and upgraded the custom analysis: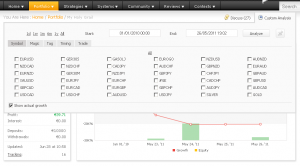 We've added 10 new search criteria:
Timing of the trade – Day of Week and Hour of Day

Trade gain, profit, duration, take profit, stop loss, lots, type and comment

Also, a quick update about our latest contest – there are 1,436 traders competing from 108 countries!
Have a great trading week!
The Myfxbook team.