We've been working for a while now on improving the way you add and connect a MetaTrader 4 account to Myfxbook. The Publisher/EA isn't the easiest way as it requires some technical skills to set it up. We're glad to show you the major change we've been working on for the past few months – a truly mobile, and easy to setup solution: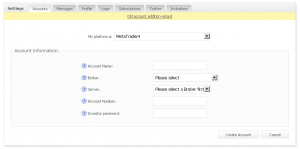 So what's the big difference you ask? Here's the complete list:
– Setup is very straightforward; simply select the broker, server, type in your login and password, and you're good to go.
– The account is processed in real time (Usually in less than 10 seconds).
– No need to setup your Publisher nor EA.
– Truly mobile solution; the account will update every 5 minutes, no matter if your MetaTrader 4 platform is on or not.
– Will enable analysis by magics by default, for those who don't use the EA.
– Addition of accounts during the weekend (for those who wish to use the EA).
As this change involves a large infrastructure change to our systems, this is a beta release. To activate the new publishing method for existing accounts, make sure you have the investor password typed in and the server selected, then simply click the yellow message for your existing account (you can also switch back to the EA/Publisher method at any time). For new accounts, go to the new wizard when adding a new account (yellow message):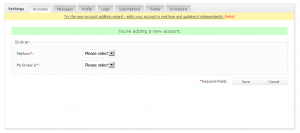 Important to  note that accounts added using the new wizard are instantly track record verified. Moreover, the new publishing method will not replace the publisher/EA methods, to allow accounts with no investor password available to be added also.
Following the above change, we're also changing the way accounts are verified for trading privileges – since some brokers rewrite the comment field after an order/trade is executed/closed, the new verification method simply requires you to change your investor password to a password provided by Myfxbook. The verification can be checked in real time, after pressing the 'Connect' button.
What other changes have we made? We've changed the reviews page to include the recent reviews: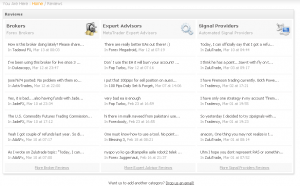 Another addition is the RSS feed for our economic calendar and forex news: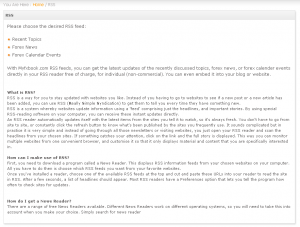 Another feature we've added is the time format option (will affect all time stamps on the website using the format in question):

Also, an important change – in order to increase transparency, we'll be removing the option to hide your broker, in a week's time. Anyone with a public account, will have the broker information showing.
Have a great trading week,
The Myfxbook team.