New Features
There are thousands of systems connected to Myfxbook, and you've probably browsed to several of them to check out the numbers and compare it either to your performance or someone else's. Up until now there wasn't an option to compare systems back-to-back, in order to quickly evaluate/compare the systems in question. Well,  no you can with the systems comparison page!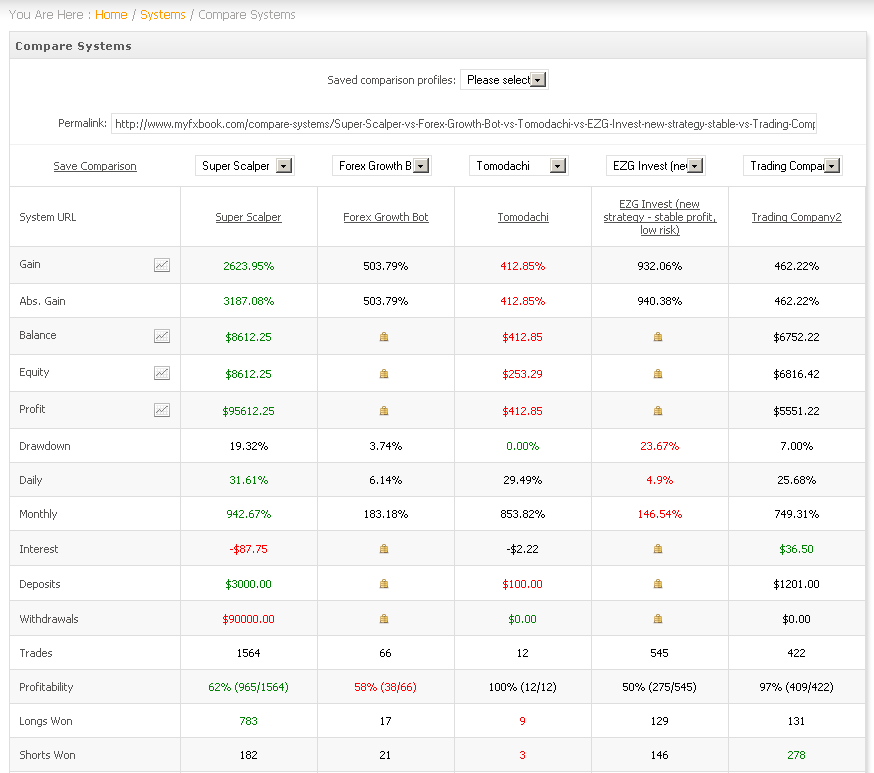 There are several key features to this new section:
Compare up to 5 systems simultaneously.
Quickly identify the best/worst values for each metric using the in-built coloring (green for best and red for worst).
Create and save an unlimited number of your comparison profiles for quick future reference.
Use a permalink to share the comparison of your selected systems with others.
Compare main metrics in one chart (gain, profit, equity and balance).
*The accounts for comparison are based on your watchlist and your private accounts in your portfolio.
Oanda Accounts Update
As some of you might have heard, Oanda are going to release the MetaTrader platform as one of their available platforms for trading – traders who will use the Oanda MetaTrader platform will be able to keep using Myfxbook as usual, so that's great news! 🙂
If you have any comments or suggestions about the new section, do let us know!
We're working on more new and exciting sections, so stay tuned! 🙂
Regards,
The Myfxbook team.