Since new features are added and more aspects of your account are now controllable, the account settings form had to be re-designed. There is no more a sliding form, but an in-place form editor which should give you much quicker and more convenient access to your account settings.
As to the new features – these ones were one of our most requested and complex features; ability to log comments from MetaTrader 4 trades, and analyze trading activity by magic numbers.
In order to add those to existing trades already logged on our servers, you will have to turn on the 'Data Restore' mode (In the account settings) and just enable 'Comments' in your account history tab in MetaTrader 4. Existing comments on trades created in Myfxbook by you will not be affected.
Here's a quick look on the new magics feature:
After using the 'filter by magic' option, you will have a complete view of how each magic number performed.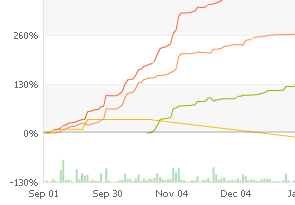 Since an account can have many magic numbers, we have added the option of naming and designating a color to each magic found in your account (in your account settings):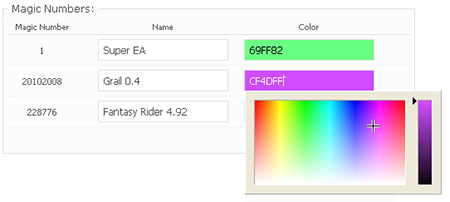 After selecting magic numbers for analysis, all statistics will be recalculated for the selected magics in real time.
This feature is most useful for anyone using several EA's to trade – no more need to open a new account for each EA. Just use this feature to see exactly how each EA is performing! And for those who would like to disable this analysis on their public system can of course choose to do so (Account settings form).
Oanda account updating issue process which affected some accounts is now fixed – there is no need to create a new account, just update the history link.
Invitations are fixed and enabled also.
Some more minor interface changes were made and errors fixed.
We have some more great features already in development and can't wait until they're released.
If you have any comments on the new features or changes, please let us know!
Have a great weekend!