You can trade the markets with a fundamental, technical or mixed approach. In all cases, you must be aware of any upcoming economic events which may move the markets in your favor or against you. Knowing of the next event and its anticipated impact might produce a new trading opportunity or allow you to close your existing position before the market turns.
Using Myfxbook's economic calendar gives you access to economic releases in real time, as they happen along with immediate interpretation of the figure, ie if the result was better than expected or worse than expected.
Our economic calendar covers events from around the worlds, no matter if their impact is low or high.
For example, for USA (largest economy with most impact)
Non Farm Payrolls
FOMC Minutes
FED Interest rate decisions
initial Jobless Claims
For UK:
BoE intererst rate decisions
Markit Services PMI
Gross Domesic Product (or GDP in short)
For Eurozone:
Retails Sales
Consumer Price index (or CPI in short)
ECB Interest rate decisions
Our economic calendar makes it very simple for you to read it;
You can filter events by:
a time-frame (today, tomorrow, this and next week or custom)
by an events impact (high, medium, low or none at all)
by symbol (roughly 40 different symbols covering 1000 indicators)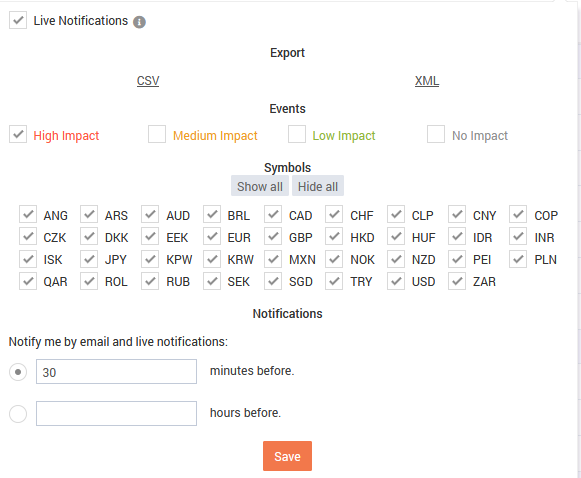 Moreover, the calendar shows a countdown for the next event (matched to your local timezone) so you don't need to do any number crunching to convert the time to your local time). Also flag of the relevant country is shown next to each event.
Clicking on an event will reveal abundance of data:
the explanation on the event and its source.
the historical values of past releases of the specific economic event.
The events are updated real-time and will show a popup once released if you're browsing our website in a different section.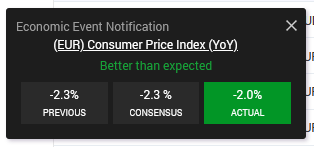 Not only our calendar is best in class, but it is also mobile friendly, so you can get the same calendar through your mobile phone, on the go.
If you're going to be away and want to be notified by email – no problem! Set up an automated notification to your email of upcoming economic events and releases.
Our economic calendar is used by millions of traders and if you're not one of them, you can start here: