A new year has started and we haven't stopped development! 3 new features were added this week based on your feedback:
Community outlook notifications – you can now set unlimited, pre-determined levels for the community outlook, per symbol, to be notified in real time once those levels are breached. You can set either a long or a short notification based on percentage, volume, or positions.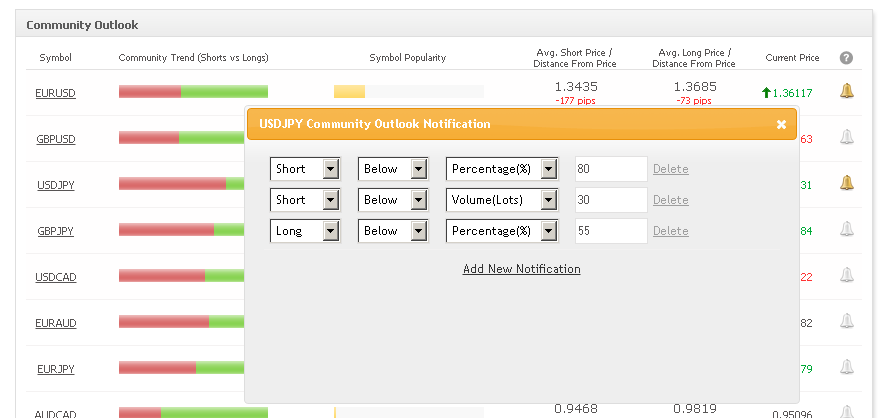 Open positions Exposure – when trading multiple currency pairs in different directions or scaling in and out of a position, it is difficult to understand your current total exposure, but no more – you now have an exposure tab which will reveal you in one quick look the exact exposure of your account to the market – you will see total lots, total profits and average entry price based on a currency pair which can also be broken down based on trade direction. For example with the image below, you can see that 15 open trades show in the Exposure tab as only 4, which is simpler and easier to understand:

(Keep in mind the exposure tab inherits the same privacy settings of your open trades, ie for example if you hide open trades, the exposure data will be also hidden).
Trade Management when AutoTrade provider is disqualified – up until now, when a system was disqualified from AutoTrade, any of its open positions were automatically closed in follower accounts. Now you can control this setting in case you wish to leave such trades open (these settings can be accessed from the main AutoTrade page, by clicking the settings icon
):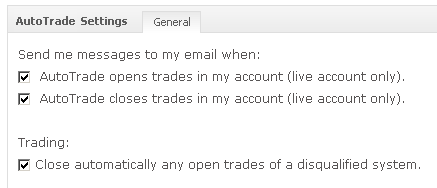 We're working on some new sections for Myfxbook so stay tuned :).
Wish you a great and successful year ahead!
The Myfxbook Team.