Analyzing your account as a whole might not always be enough – pinpointing the exact issues might be a very difficult task but using Myfxbook definitely helps :).
Although we're proud to have the best and most useful tools for this task, we're always looking for new ones and as a pioneer in forex trading analysis, we design and create unique tools giving you an edge unavailable anywhere else.  We're excited to reveal the result of our hard work which is one of the most powerful additions to your tool-box: Trade Analytics.
The trade analytic will show in your history tab, in your private portfolio and in your public system page (with appropriate privacy settings):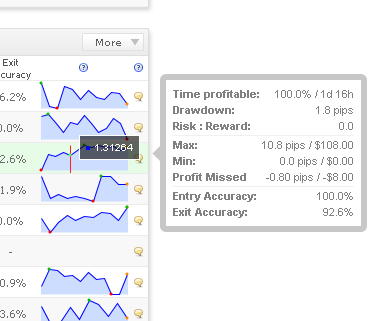 The trade analytics will tell you everything you ever wanted to know about each of your trades with the next 8 statistics:
Time Profitable – how long was the trade profitable in percent and in absolute time.
Drawdown – worst drawdown experienced during the trade's lifetime, in pips.
Max – the max profit of the trade experienced, in pips and money.
Min – the min profit (highest loss) of the trade experienced, in pips and money.
Risk : Reward: the risk:reward ratio of the trade (based on the max and min values of the trade!).
Profit Missed – how much profit did you miss by not exiting on time (profit which was already yours).
Entry Accuracy – how accurate was your entry.
Exit Accuracy – how accurate was your exit.
Efficiency figures identify how much of a trading range your forex trading system captures. The trading's range timeframe is defined by your trade's entry and exit points and the price range is defined by the trade's high and low values.
You can sort your trades based on these new metrics by clicking the 'more' button in the history section and adding the new metrics.
Please note the above statistics are supported for over 50 different forex pairs and will be available only for verified accounts and for recent trades (which is another great reason to connect your forex trading account to Myfxbook as soon as you open it! :)).
Another feature added is menu customization:
You might have noticed a small handle next to each account/portfolio in the Portfolio menu – you can now move around the items to reorder them as you wish and it will be instanly saved (remember you can create and manage your portfolio groups through your settings area, 'Manage Portfolios' button).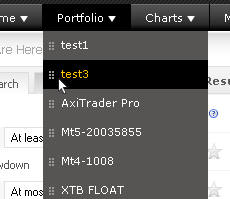 One last addition: Forex Broker Volume Widget:
Just as in the website, the widget is self updating the data.
Get the code on https://www.myfxbook.com/forex-broker-volume (green 'add to site' button) and place it in your blog/website).
Do let us know what you think and if you have any suggestions/comments.
Have a great week!
The Myfxbook Team.