Those of you who use custom analysis frequently use much of your time configuring the search parameters. We've added a new feature to overcome this issue and allow you to quickly anlayse your data using saved search profiles: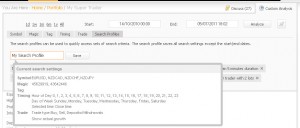 The search profiles can be used to quickly access sets of search criteria. The search profile saves all search settings (except the start/end dates) which can be loaded with a click of a button!
Let us know of any feedback you have and any other suggestions or comments!
On the same note, we have a lot of new and exciting features in development waiting to be released during the following weeks, so stay tuned!
Also, FXCM Publisher users should do an update to their order2go api (an update of FXCM) by going to Start>Program Files>FX Order2Go>Update to keep their accounts updating.
Wish you a ton of pips this week! 🙂
The Myfxbook Team.