Today we've added a new streaming news page – this page aggregates top forex headlines from the leading news portals and streams it directly to you for quick view and immediate access (access it from the 'home' menu or from the 'view all' link in the dashboard news):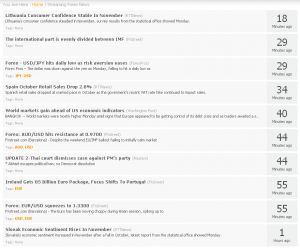 You can scroll down to reveal less recent news.
The news can be filtered by symbol tags such as EUR, USD, GBP etc. Use it to show news relevant to your trading only.
This is an initial version of the news page, and if you have any suggestion and/or comments, please feel free to share it with us.
As to the contest – it has ended 4 days ago and here are the results: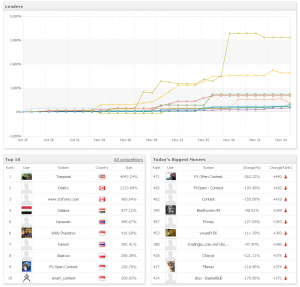 Congratulations to the top 3 traders who won the contest:
1st place ($2,000), a return of 4043.24% – Tompinaikd
2nd place ($1,000), a return of 2123.88% – Dmitry
3rd place ($500), a return of 968.64% – ctsforex
Winners, you will be contacted by fxopen to claim your prizes.
We're about to open the registration for our next trading championship – stay tuned!
Regards,
The Myfxbook team.