After a long break from the last contest, today we launch our second contest, sponsored by FXOpen.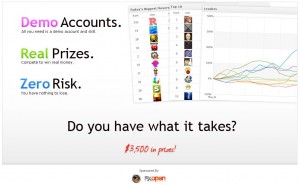 The concept is the same as before: trade a demo account to win real money (Accounts start with $100,000).
The prizes are $3,500 in total – $2,000 for 1st place, $1,000 for 2nd place, and $500 for 3rd place. As you can see from the contest page, there are no terms for claiming your prizes 🙂
Registration period is only 2 weeks, so hurry up and register – you have nothing to lose!
Registration is simple and easy:
Register at the following link: Contest Registration.
Download the MetaTrader platform of the sponsoring broker.
Connect the account to your Myfxbook portfolio.
Please note, the trading account will be locked against trading until the start of the contest. We will send you a reminder email just before the start of the contest.
Happy trading!
Regards,
The Myfxbook team.