It has been asked for so many times that we've simply lost count. As the top leading forex analysis service, the only missing link is the ability to copy/mirror the trades of the best traders – no longer! After a private beta of several months and a public beta of 1 month with 1000 trading accounts, we're proud to present AutoTrade – the next generation account mirroring service, as you're about to find out.
Prior to the development stage, we've signed up to existing services to understand how such a service should (and shouldn't! :)) be implemented. Among our findings the following 4 stood out loud and clear:
Incorrect and misleading statistics (for example bottomless pip drawdowns, no record of equity drawdown, etc').
Services looking to increase volume trading just to increase their profits (volume based incentives).
Difficult and confusing user interfaces with absolutely no explanation or limitation of risk.
Misleading claims of a no-cost service.
The result is an advanced, simple to use, professional trade copy service where we emphasize and limit risk, provide vital and true information about the performance (using the existing system analysis you have for your accounts), offer an intuitive platform where it takes only a couple of minutes to get the hang of it and most importantly a truly free and transparent service (no spread markups!):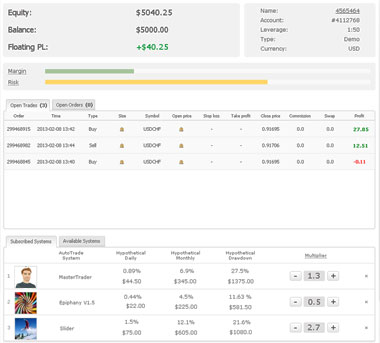 Ready to start?
https://www.myfxbook.com/autotrade
Please note that due to the addition of the new section, the strategies button moved inside the systems menu.
As always, any feedback/comments/suggestions are very welcome.
Thanks,
The Myfxbook Team.